WE WELCOME NEW INVESTORS AND SUPPORT THOSE ALREADY HERE...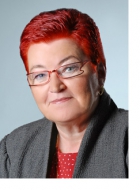 JUDr. Hana Jeníčková 
Deputy Mayor of the City of Most
 
The City of Most built the Joseph strategic industrial zone in 2001 in cooperation with the government of the Czech Republic and with financial support from European Union funds and from the state budget of the Czech Republic. Tremendous funding and the efforts of the city's leaders and the managers of the industrial zone were devoted to the preparation of the strategic industrial zone. Today the Joseph strategic industrial zone is perfectly prepared in all respects and thus has a lot to offer to large strategic investors. Of course, we also welcome smaller and medium-sized investors and regional businesses that would like to expand. We have smaller areas prepared for them, though of course we also offer them the same support as that offered to large investors.

Joseph is one of the largest industrial zones in the Czech Republic. A total of 129 ha of vacant land with an approved land-use plan for industrial production is currently available to investors for the very favourable price of CZK 340 (approx. €12.4, $17.1) per m2. The Joseph zone has a strategic location near the German border and close to Prague. The constructed technical infrastructure is on the highest level and will also cover the needs of large and demanding investors. A major advantage of the Joseph strategic industrial zones is its location in the region receiving the highest investment incentives of the entire Czech Republic and the highest possible level of support from European Union structural funds due its high unemployment rate. Investors operating in the Joseph strategic industrial appreciate the locally available skilled labour and minimal employee turnover. Furthermore, the low average wages in the region and lower costs of materials and services purchased from local suppliers save them money in the long term.
We also offer the support of the city management and the managers of the industrial zone. We reduced the administrative burden on investors and are ready to offer support in obtaining investment incentives, funds and grants, as well as support in negotiating with authorities and institutions in the course of project implementation. Aftercare is a matter of course for us – we regularly monitor the requirements and issues of the investors located in the zone and support their implementation.